Previously, several kinds of touch interactive products widely seen in the first-tier and second-tier cities were introduced, then how to create an outdoor touch interactive machine with good performance to avoid phenomenon like blue screen or crash during scanning payment.
Before answering the question, let's firstly talk about the weather in Beijing, the capital, and Shenzhen, where I am living.
Is mask a carry-on necessity for those who ever stayed in Beijing?
Words like "haze" and "sand storm" have been the terminologies for Beijing; in Shenzhen, though it was hot just now, rain can pour down shortly after. It is hard to keep dry in such kind of weather, so umbrella is a necessity for me when going out.
Once there are yellow warning signals in the two cities --
Baidu will go crazy; those hating to get out of bed grin, "that's good! I don't need to go to school today!".
How many people were deeply impressed by the unprecedented ice damage during Spring Festival travel in 2008 as me? The disaster nearly swept over the whole country, especially the south. All transportation means halted including airplane, train and bus, I was trapped in Changsha railway station for three days, which is still a terrible memory for me now.
Meteorological disasters are the greatest influencing factors for outdoor touch interactive machines, such as haze and sand storm in Beijing, and heat, typhoon, rainstorm and precipitate ice damage in Shenzhen.
For high-performance outdoor touch interactive machines, the most primary is "to go through nature challenges". That requires not only firm structural parts, but also touch screen preventing interferences like heat or cold, moisture, vibration, highlight, accumulation of oil and dust, and screen scarification or break.
Phenomenon such as blue screen and crash will occur in low performance.
There are mainly four types of touch screens applied in different occasions by now: resistive, capacitive, surface acoustic wave, and infrared.
What are the features of these touch screens respectively?
I. Resistive screen is cheap and free from dust, moisture and oil. But it need certain pressure, only real physical touch can realize interaction, which will result in screen and film wear. So the screen will wear out in one or two years.
In addition, it is not smooth enough in multi-point touch for amplification, contraction and rotation. Multi-point touch is the mainstream mode currently, so this type of screen will be out of fashion in technical products as mobile phone, tablet computer and all-in-one machine.
II. Capacitive screen is sensitive, accurate and multi-point touch allowable. It works through current sensing, so the changes of temperature, humidity and electric field will arouse screen drifting, resulting in inaccuracy.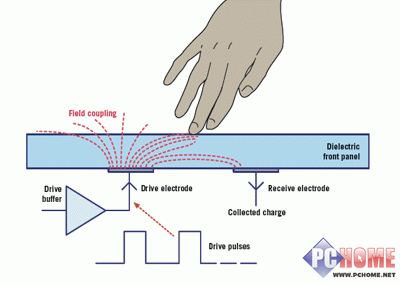 Basing on the operating principle of capacitance, this type of screen only react to touches from conductive objects like fingers. Nails or insulator are not applicable here. It is inconvenient for users because, for example, they have to take off gloves to touch the screen in cold winter.
III. Acoustic wave screen is designed based on the characters of surface spread of acoustic wave. It is scrape and interference preventing due to the high optical performance, but can be less sensitive and even fail to work when the wave is stopped by obstacles on surface like dust, water drop and oil.
IV. Infrared screen is covered with transmitting and reception tubes all around. When there are non-transparent objects getting into the matrix formed by X and Y, touches can be identified according to the strength changes of infrared ray.
Comparing with the others, infrared touch screen is superior in visual effect and positioning principle, and free from interference of current, voltage and static, thus applicable in bad environment. High translucency without any medium allows it far from dust, water and oil impacts.
This is the developing trend of touch products.
It settled many problems including screen damage and aging, vulnerability to pollution, destructive usage and complex maintenance, which are hard for touch screens adopted acoustics and other materials.
Someone may cry excitedly, "wow, it sounds that the other three alternatives are out of the game!"
……
That is not all. Anyone who know about infrared technology is clear that it is destined unsuitable for small devices such as mobile phones. And the popular iPhone chooses capacitive touch screen. In addition, due to the sensitivity to light, it can make mistakes or even crash in great light changes or in hard light.
Epilogue:
With the popularity of large-size display applications, it will definitely become the inevitable choice for outdoor large-size touch screens requiring accurate touches once the light problem is settled.
(PS: there are outdoor interactive machines with capacitive touch screen now, which cost much more than those with infrared touch screens in the same size. )
Then how to solve the light problem?
I will share black technology with you next post – here comes the era of naked anti-light screen.